Clean Air Insulation
Go Green with RetroFoam™
RetroFoam™ insulation is a foam insulator that is:
Non-toxic
Non-flammable (Class 1 Fire Rating)
Biodegradable
Water-based
RetroFoam™: The Insulation Choice for Cleaner Air
Clean air – one of our country's goals. While you can't control the decision of the public, you CAN control the decisions for your homes and businesses. According to the Environmental Protection Agency, "indoor pollution sources that release gases or particles into the air are the primary cause of indoor air quality problems in homes."
RetroFoam™ is environmentally friendly product composed of organic polymers. When compared to other insulation materials, RetroFoam™ can protest the air quality of your home, resulting in cleaner air for you and your family.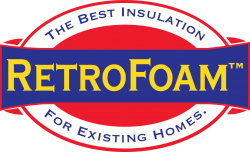 Cleaner Air = Healthy Homes
Having a healthy home for ourselves and our families is a common goal for most of us. RetroFoam™ can help kick-start a healthier home environment for you and your family. RetroFoam™ is hypoallergenic, contains no fumes or gases, and most importantly, provides a clean, safe environment for your family. A home with RetroFoam™ is a healthier home!
Our team at Northwest RetroFoam™ takes pride in our insulation product, and we love to see our customers experience the benefits of RetroFoam™. Contact us TODAY for a FREE Estimate!